Since the 1920's the market that became "Gino's" was operated by several Italian families under several names. In 1968, Gino Zalunardo was the next Italian to operate the small successful neighborhood market for 18 years.  Gino was friends with Elmer Belcastro, Fran's father, and confided in him that he wanted to retire. Elmer, a successful Italian entrepreneur himself, thought it was a great opportunity for his daughter Fran and her husband Hank Dearborn. They pursued the idea and opportunity, then purchased Gino's Market in 1986.  For a year they got to know their customers, and the neighborhood and they made a few early minor changes while building experience.  The Southern Pacific Railroad had housing across the street from the market and the men that were on the crews were some of their best customers.  The store stayed open until midnight trying to accommodate them with their crazy schedules for the railroad. The railroad guys started asking if Gino's could make some food for their long trips. It became our order ahead pioneering option by phone.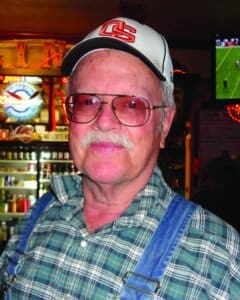 The Dearborn's saved enough money to turn a small closet area into a certified kitchen.  Fran and her crew started making sandwiches, salads, and crockpot soups at first.  It quickly caught on and they found themselves buying more equipment to be able to make burgers, french fries, and our famous breakfast burritos.   Eventually, Fran started making new breakfast burritos and daily specials.  The deli side of the business began to gain traction.  The breakfast burrito line would become the leading menu item from then on.  They squeezed in a few tables in the corner of the market so people could sit and eat.  Fran made Italian specials with family recipes, and Wednesdays became our Italian Calzone Day. Soon it was standing room only so the Dearborn's started planning a future that would influence them into a huge expansion.
Fran worked on a business plan to get financing to grow and expand.  They bought the row of smaller buildings next door.  There was a grass field between those buildings that became the future Gino's new large commercial kitchen.  Hank Dearborn Construction, with a building engineer planned out the construction and the remodel that would join the two buildings together into one.
In 1996 the plan was set and the building was ready to accommodate a new restaurant.  It was named Gino's Café Italiano.  During the years that followed it would focus on Premier Italian entrees with linen and the rest of our other options of food would sell through the Deli Kitchen on the market side of the building.  The new restaurant, besides serving lunch and dinners would host family events, large events, as well as our popular "Murder Mystery" Dinner Theaters for years.
Hank Dearborn planted grapes and put in a victory garden so Gino's could have fresh vegetables, he was always a farmer at heart and he enjoyed being our farmer. He was really caring and amazing at everything he did for his family and for Gino's.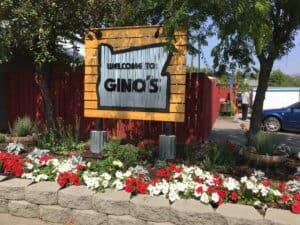 When the economy took a downward spiral in 2008, everything came to a sudden stop.  No parties were booked for Christmas that year.  Businesses were closing right and left.  Gino's had to change directions again, evolve and adapt to stay in business.  The Deli and the Italian menus were combined.  A wall was removed and the front dining room was opened to all customers.  The family hoped that this would keep the business going and it did.  After a few years, the economy started to recover and business picked up. The family decided to add to their business so Hank and Angelo Dearborn started remodeling the back banquet rooms into a bar.  The bar area opened in July 2011. Once that was complete, we re-named that part of the business "Gino's Café and Sports Bar". Soon after we added Oregon Lottery and began booking live music and events on our newly developed patio stage area.
*We are known for breakfast burritos, bloody mary's, great service, and a loving family atmosphere and culture. We are proud of our employees and Gino's history. Our growth in the past is our plan for the future. We are proud to be family and employee-owned. We want to welcome you to our Gino's family and hope it can be a very positive experience in your life.     (There will be a test on this)